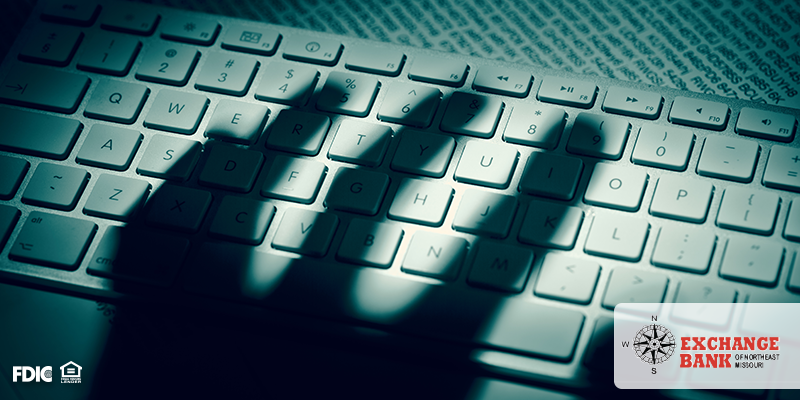 Did you know that 43 percent of cyber crimes target small businesses? Because many large corporations are pushed into the spotlight after suffering from a data breach, many Americans aren't aware that small businesses have a continuous risk of cyber attacks as well. While you may not always be able to prevent a phishing scam or Trojan horse, you can proactively set standards and guidelines to help keep you and your employees safe. At Exchange Bank of Northeast Missouri we want to help protect your business and offer these four tips to help you get started:
Put protocols and software in place to help prevent potential oversights. Email is one of the biggest culprits of phishing schemes. Often begun with a harmless looking email, these messages can signal attachments and trap doors, which allow cyber criminals to come in. To help lessen the success of these attempts, we recommend using a commercial email screening software to check for phony emails, suspicious attachments, and questionable links. To supplement this, we also suggest adding corporate guidelines to indicate a structured process, should suspicious content be noticed or interacted with.
Educate your employees on using these protocols and share ways to be proactive against phishing tactics. One of the greatest tools to combat cyber security is education. By having monthly reminders on cyber security, company protocols, and any news or changes, you and your team can be sure to keep the safety of your company at the top of your mind.
Keep everything secure and separated. While tools like the cloud offer increased mobility and peer-to-peer sharing, they also create an added potential for cyber breaches. Instead of pushing everything out to the World Wide Web, we recommend maintaining the majority of your information within personal networks and servers when possible. This limits the openings for external ramrods and helps keep your company's valuable information secure.
Update your hardware and software on a regular recurring basis. Once you have the foundational applications and protocols set for your business, the next step is to continually improve and monitor them through recurring updates. Many times a program or system will only run on an updated version of software, so to ensure your cyber network doesn't have gaps in protection, we suggest checking for updates on a monthly basis.

At Exchange Bank of Northeast Missouri, we value our customer's business and their continued prosperity. If you'd like to learn what steps you can take to further safeguard your company's security, our committed staff of personal bankers are here to help!
Exchange Bank of Northeast Missouri
Member FDIC
Equal Housing Lender