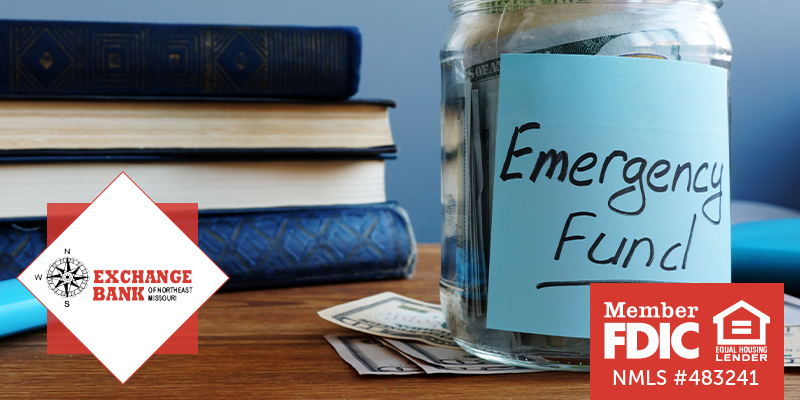 No one can predict what the future has in store for us, but we can be better prepared for it. That's where an emergency fund comes in. Setting aside funds allows you to cover those unexpected expenses such as a costly repair bill, unemployment or medical. 
But where to start? Follow these tips to set some goals and start building your emergency fund. 
Review Your Monthly Expenses
A great place to start is to take stock of your monthly expenses – whether that's your rent or mortgage, utility bills, or entertainment such as movie tickets, streaming services, dining out and so on. This will help you determine how much money comes in each month, how much is being spent and how much you can set aside comfortably. There are a variety of tools and apps you can use to keep track of all the expenses. 
Set Your Savings Goal
How much would you like to put away each year and what is a realistic figure for your income? An emergency fund should cover three to six months' worth of living expenses. If this sounds daunting at first, start off with smaller goals such as saving $500, then $1,000 and $2,500 to get used to the idea. Having this amount in your account helps you avoid having to borrow money and covers larger life expenses such as unexpected medical expenses, a death in the family, unemployment and so forth.  
Choose a Place to Keep Your Emergency Fund
In the case of an emergency, you'll need quick and easy access to your funds. Keep your emergency funds in a separate savings account so you aren't tempted to dip into it. Remember, it's meant for real emergencies—the latest TikTok trend is NOT included.  
A savings account where the money can earn interest and be easily withdrawn or transferred to your checking account 
A money market account that comes with a debit card and/or check writing privileges
If you have questions about different types of accounts to store your emergency funds in, we can help! Simply give us a call or stop into a location near you. 
Set Up Automatic Transfer
Set up automatic transfers so the funds you want to deposit into your emergency fund account are automatically taken from your checking account on payday. You can also check with your employer about setting up separate direct deposit for the amount you would like to save each month. This ensures that you remember to set money aside and prevents you from spending it before you get a chance to put it into your account. 
Stick to Your Plan
This can be one of the toughest parts of saving money, as it's very tempting to splurge on things that bring us joy. Setting realistic and attainable goals will help you stay on track, as well as encourage you to continue saving even after you reach your goals. Your circumstances may change down the road, whether it's through marriage, the birth of a child or relocation. Having extra cushioning in your account will help you get through those moments with less stress and more financial stability. 
Creating an emergency fund is an essential part of financial stability and should be near the top of your priority list. Why wait? Today is a great day to start preparing for your future. Whether you have questions or are prepared to set up your emergency fund account, your friends at Exchange Bank of Northeast Missouri are here to help! 
Exchange Bank of Northeast Missouri
Member FDIC
Equal Housing Lender