Posted On: August 25, 2022 by Exchange Bank of Northeast Missouri in: Home Improvement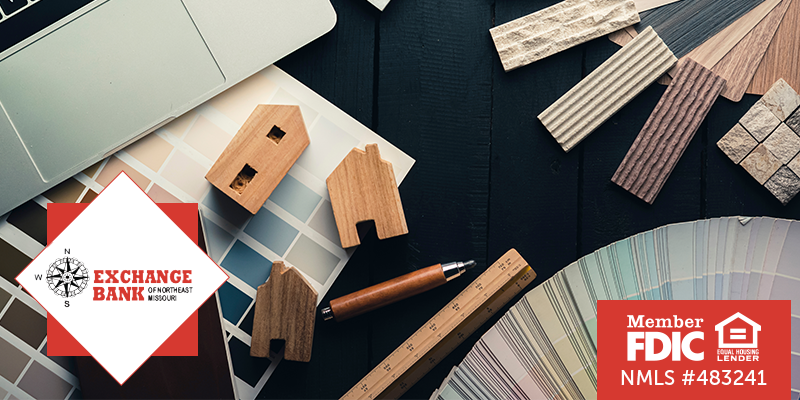 Most homeowners would agree that home renovations and projects seem to be never-ending. For those who love to have a nicely decorated, modern and aesthetically pleasing home, this blog is for you. Check out these renovation tips on trend this year! Whether you are looking to spruce up your forever home or get your home ready to sell, these tips are worth a read.
Spice Up Your Walls
An extremely easy and affordable way to change the look of your space is to switch up your walls. Whether you re-paint a new color, create an accent wall with paint or wallpaper, or swap out your artwork, this is a super easy and fun tip. Spicing up your walls can be a great way to change your homes color palette with a bold color or a unique textured wallpaper.
Kitchen Facelift
Your kitchen is a space you use on a daily basis, so give it the facelift it deserves to be a fun, functional and beautiful space you can enjoy. If your kitchen is feeling dull, here are some tips to bring it back to life without a spendy remodel.
Paint your cabinets a bold color (dark green, blues, purple tones)

Add a backsplash

Switch out your accents with new knobs and handles (matte black and gold are on-trend)
Add in some new barstools or dining chairs

Switch out your lighting for a bold chandelier (match to your fixtures)

Clean off the countertops of appliances – add in pottery and functional storage
Luxe Up Your Bathroom
A bathroom refresh is always a good idea. To give your bathroom a luxurious feel, add in some matching bath towels and rugs to add a clean pop to the space. Replacing the mirror(s), faucet, shower head, light fixtures and towel bars are a great way to modernize the space. Coordinate your bathroom accessories to add storage and act as gorgeous counter décor. Greenery or florals give a refreshing feeling to a bathroom almost as if you were at a spa.
Beautify the Backyard
Spring and summer are great times for those backyard projects. Renovating your backyard space to be a functional place to enjoy can be an ongoing project you do more and more with each year. Consider adding on a patio or a deck. Outdoor kitchens have become wildly popular. Whether you add the full kitchen or a small firepit and hosting area, if you enjoy spending time outdoors this will be well worth the cost and labor.
The backyard is also a great space to enjoy your hobbies. Raised flower beds and gardens are always on-trend, they add so much color and liveliness to your yard. Your backyard is a great place for yard games or sports you enjoy such as a putting green or a multi-purpose court.
Accentuate Your Fixtures
As we have pointed out some key areas to renovate this year, you've probably noticed a common theme of swapping out the fixtures. This is an incredibly easy thing to do that makes the biggest difference. You can do this in just about every area of your home, from outlet covers to curtain rods, accentuate your space with your staple preference of fixtures. Keeping your preference of fixtures to match and work in unison will pull your rooms together and give you a base for your overall aesthetic.
As you begin to choose your next home improvement project, consider these trendy tips to apply to your renovation. Tips and trends change over the years, but these top renovation tips for 2022 will keep your style and design modern and functional for years to come.
Exchange Bank of Northeast Missouri