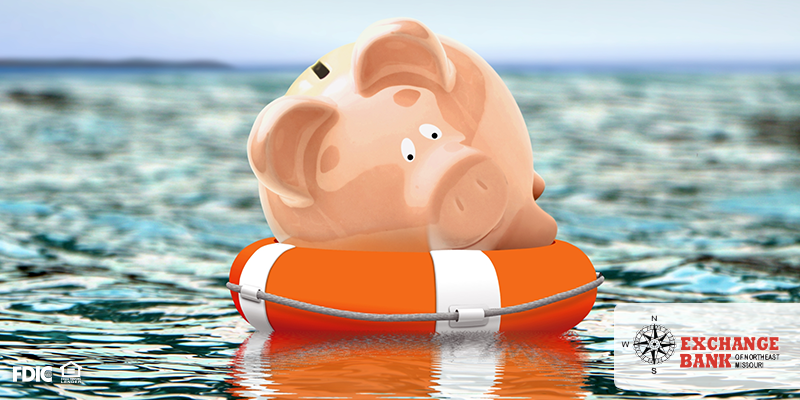 Spring may have just begun, but summer is close behind! Instead of pulling together funds at the last minute, Exchange Bank of Northeast Missouri is here to help you save in advance for the coming months. Reducing your spending could be simpler than you think, and with these easy adjustments you'll find yourself saving in no time!
Cut Your Cable ($75/month): Now that companies like Netflix, Hulu, and SlingTV offer streaming videos and original content, your cable bill can be cut in half. If you love your local news and sports channels there are other affordable options that can help you add these to your entertainment options as well.
Pack a Lunch ($80/month): Did you know the average cost for lunch in the United States is $12.74? If you remove two of these meals a week and replace them with leftovers from dinner, or other more cost-effective options you could effectively save $20.00 each week!
Be Brand Un-loyal ($150/month): There are countless generic or store brand products that offer a nearly identical alternative at a fraction of the cost. By taking advantage of these opportune savings you could not only save in the short-term but the long-term as well! Something as simple as switching your go-to grocery store could yield hundreds of savings on its own.
Automate Your Savings ($50/month): Exchange Bank of Northeast Missouri offers helpful and convenient online banking to all our customers. What many users don't know is that money management can also be used to create monthly habits for savings and bill pay. If you want to save a set amount of money each month, we'd love to show you how to create a recurring transfer. This automated allocation ensures that your funds are deposited into your savings account each month before you can miss them or be tempted to spend.
$1,000 can cultivate a number of adventures throughout the summer.
We'd love to share some of our favorite experiences and projects to inspire your seasonal savings.
Vacation: There are a number of fun and affordable destinations to enjoy with your family, both within the U.S. and abroad.
Renovations: When you become a homeowner, you inherit a never-ending to-do list. Luckily there are some things you can check off with these cost-effective updates.
New Business: When you have an entrepreneurial mindset, building the foundation of a small business is entirely possible with even a small amount of funding. Take a look at just a sample of ideas you can get started on today.
With so many great ways to save, Exchange Bank of Northeast Missouri wants to help you get started today! Stop by your nearest branch and see which of our tailored saving options is the best fit for you.
Exchange Bank of Northeast Missouri
Member FDIC
Equal Housing Lender
NMLS# 483241