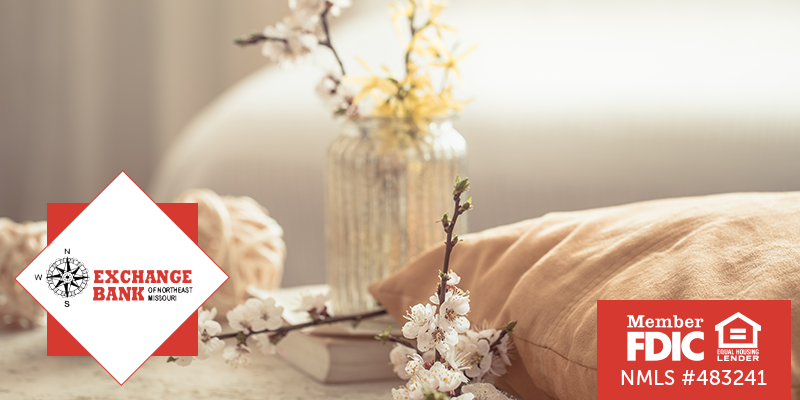 Spring is nearing and that means it is time to start thinking about packing up the last of your winter decor. Transition your wintery decor with fresh spring items. Keep reading for some simple and budget-friendly ways to decorate transitionally for spring.
Step 1: Define Your Style Filter
The most important step when beginning to refresh your décor after the winter months is figuring out your color palette for the space. Your color palette and decorating style pair hand in hand to create a filter. As you decorate your home you will find it easier and easier to fill the space when everything placed is filtered through your style. Going from winter to spring many choose to opt for more light and airy pastels versus the dark and cozy winter aesthetics. Begin thinking about your taste for greenery and any patterns you may incorporate during the Spring months.
Step 2: Choose Your Color Palette
When it comes to choosing your color palette chances are you most likely already have one in motion or have a preference of what you'd like it to be. Your color palette can be several colors or one to two. These tones are commonly incorporated into your paint color or larger furniture items to tie your space together. Identifying your color palette allows for a seamless process in adding new or old pieces as you decorate your space.
If you are looking to modernize or simply make your décor flow effortlessly, you can incorporate more transitional or neutral colors. This does not mean you cannot add in a pattern, texture, or pop of color. Transitional décor allows you to do this easily, especially throughout the holidays – your transitional décor stays as your base, and you add to it as you see fit.
Step 3: Coordinate Your Décor Style
Identify your decorating style as well as your accent colors, whether those are gold, wood tones, black, silver, etc. Stick to your basics and incorporate pieces that have those same accents or accentuate what you already have out.
Step 4: Pull the Wintery Pieces
The winter décor can finally be packed away for the season. Pulling the wintery pieces will give you a clear canvas to fill with transitional spring-to-summer items. When refilling post-winter spaces, remember to add items you can dress up for the spring holidays. Also, items you can slowly transition as summer approaches.
Step 4: Incorporate Spring
To incorporate spring, you can keep and include seasonal items such as:
Pastel and bright textures

Pottery

Warm metals

Spring greens or succulents

Bright neutrals
Extra white décor

Lanterns

Lighter throw blankets with patterns or a slight texture

Spring signage

Baskets
Birds

Neutral Easter décor (eggs, bunnies, etc.)
Step 5: Bring Back the Basics
Once you have removed winter décor completely and identified the transitional pieces you will keep out, introduce your spring basics back in to see what works cohesively. You will find you can pair many of these items with your constant items to both elevate and fill the space. Do not be afraid to mix and match, the best part is, it's your style. Try placing pieces that help make your space feel as homey and cozy as you would like. As it gets closer to spring and summer you can swap out items for St. Patrick's Day and Easter to add an extra holiday flare to your décor.
I hope we helped you gather some simple ideas for decorating your home this spring season, without completely having to re-decorate the space!
Exchange Bank of Northeast Missouri