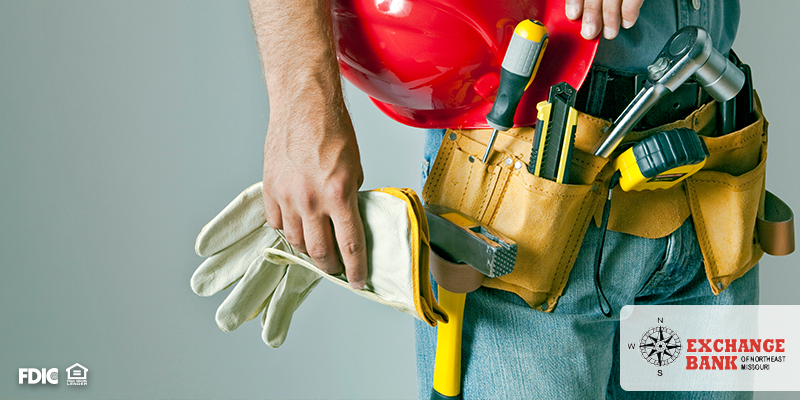 Remodels can be an exciting and trying experience. If you're looking to make some updates to your home, a Home Equity Line of Credit is the perfect way to use the equity you have already built in your house. Here at Exchange Bank of Northeast Missouri we offer both Home Equity Loans and Home Equity Lines of Credit, let us show you which may work best for you!
Home Equity Loan: Using your home as your collateral you are able to borrow funds in addition to your mortgage to complete home projects or unexpected repairs. After speaking to an Exchange Bank of Northeast Missouri loan officer, a loan amount will be determined along with a loan term for repayments. The funds from this loan are presented in one check to use as needed.
Home Equity Line of Credit: Also utilizing your residence as collateral this option allows you to obtain a line of credit, with an agreed upon loan amount. Accessed through the use of a checkbook, a credit line allows you to access funds as you need them instead of receiving one lump sum at the loan closing. With a designated cap there is a limit to your available funds.
Regardless of which loan type you choose, the loan amount will be determined by the current value of your home, your individual financial history and other factors. If your home appraises for more than you anticipated, that's great news; but remember, it is always recommended to secure a loan only for the amount you need, ensuring you don't overextend your budget!
If you're interested in beginning the process for your next home renovation, start the journey with Exchange Bank of Northeast Missouri and our Home Equity options!
Exchange Bank of Northeast Missouri
Member FDIC
Equal Housing Lender
NMLS# 483241