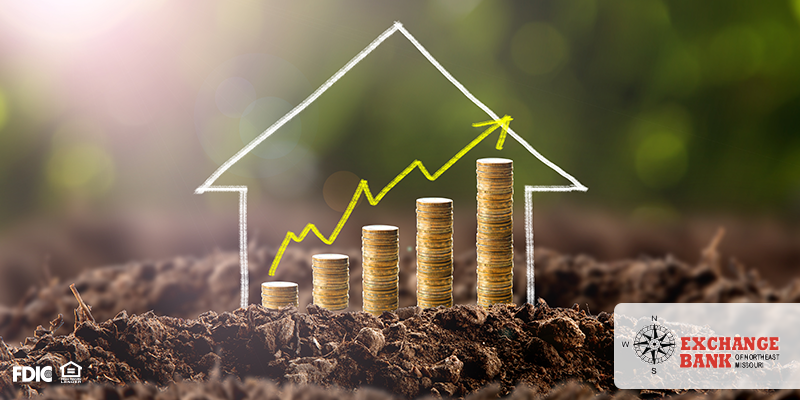 Spring is the perfect time to start something new. Whether that's creating a fresh and colorful garden, planning an exciting and exotic vacation, or officially starting the search for your new home, now is the perfect moment to begin anew.
If you and your family are ready to plant fresh roots, our dedicated team at Exchange Bank of Northeast Missouri is here to help. Before you start searching the market for available homes, we recommend first evaluating your house and determining a structured estimate of its current value. By completing this before searching for a home, you can create a more specified budget and keep your list of potential new places within reach.
Online Estimation
With tools such as Zillow and Redfin, you can see previous listing information, in addition to further estimates of homes in your neighborhood. While many times these online directories aren't filled with complete information, they can help by offering you a ballpark figure relative to your current area.
Official Land Records
Each county in the state has a system for public records of land. These records show when the home was sold last, what its appraised value was, and who the current deed belongs to. This helpful history can not only help you understand the evolvement of your home but also assist you with additional information while researching potential new houses.
Ask a Professional
Just as you would order a home inspection before closing on a home, it may be a good idea to complete a formal home inspection before placing your home on the market. This can ensure you know any pitfalls and perks of your home, which you can share with your realtor.
Purchasing a new home is an exciting and often trying process. To help make the transition simpler, our experienced mortgage lenders at Exchange Bank of Northeast Missouri are here to help you along the way. With a simple pre-approval process and local area expertise, our dedicated team is ready to help you make the big move.
Exchange Bank of Northeast Missouri
Member FDIC
Equal Housing Lender
NMLS# 483241