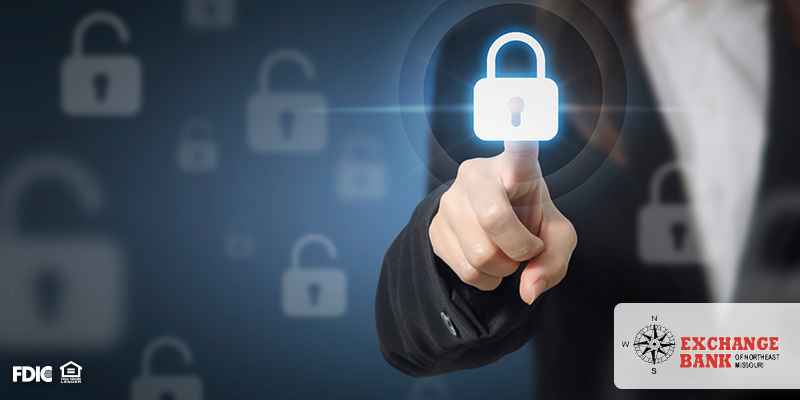 Whether it's used to register for your classes, login to social media, or pay your monthly utility bills, it seems like everything these days requires a password. In order to help you protect your financial future, Exchange Bank of Northeast Missouri would like to share our best tips and tricks to making your passwords unhackable.
Change your password every month. One of the most effective things you can do to deter cybercriminals is to update your passwords on a regular basis. You can commit to this once a week, month, or quarter, continually adjusting your passwords makes it more difficult for unintended users to access your information.
Use phrases instead of one word. Always remember to avoid terms related to family members, pets, birthdays or other easily researched personal attachments. Instead, format your password into phrases to offer an added level of difficulty. Let's go eat, can easily transform to [email protected]+ to create an extra layer of protection.
Make your password complex. When creating passwords, always be sure to include numbers, upper and lower case letters, and symbols. By including all of these characters you increase the number of potential combinations, making it extremely difficult to be hacked.
Have a different password for every program. While it can often be simpler to have several overall passwords for your various logins, to make the most of your cyber security, we suggest having a different password for each program.
Manage your passwords with a secure app. In order to best maintain your growing list of passwords, you will want to use a secure password managing app. This app will offer an easily accessible place to safeguard all of your online passwords.
If you're curious about other tips and tricks to enhance your cyber security, be sure to check our monthly blogs for updates and techniques!
Exchange Bank of Northeast Missouri
Member FDIC
Equal Housing Lender