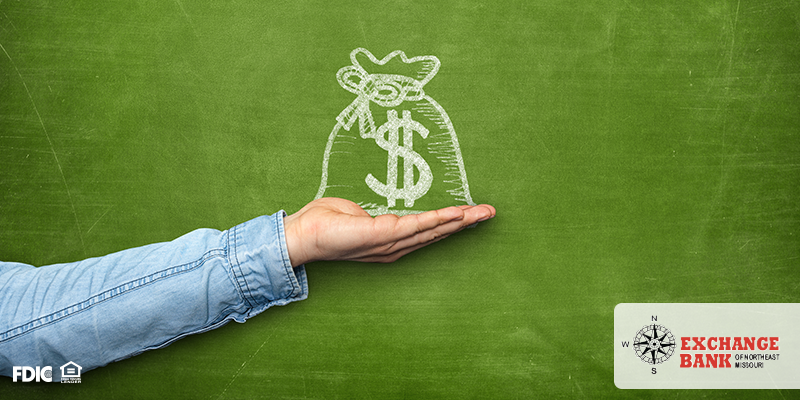 This year, make the leap into financial success with a savings plan you can be proud of. Using a variety of budget-friendly strategies, Exchange Bank of Northeast Missouri will show you how you can save $1,000 or more a month towards your next fiscal goal. Here's how to get started:
Use a Budget ($150/month) - One of the most important ways to save is to track your spending. We recommend creating a monthly budget, while also using apps like Intuit's Mint, to accurately see where your money is going throughout the month. After you know your basic bills and other expenditures for a thirty day period, you can begin to designate funds into categories such as housing, food, transportation, etc. By choosing where you want to focus your spending, you can identify areas where perhaps you can cut back, and add more dollars to your monthly savings instead.
Be Brand Unloyal ($200/month) - Whether it's choosing which grocery store to shop at, or deciding between two brands of cereal, opting for the more cost effective option can impact your budget in a big way. One great way to find the best store for your basic necessities is to price shop. Make a list of the key items you purchase on a consistent basis, and then visit each store to see which offers the best price on your selection of items. Additionally, you can view which vendors offer comparable store-brand products at a reduced price to save extra funds along the way.
Cut Cable ($100/month) - Do you know how much you're spending on your monthly cable bill? Many times companies lure customers in with the promise of low rates, only to tack on additional fees to steadily increase the price. Avoid the hassle of cable all together, and stick to online streaming services such as Netflix and Hulu to watch your favorite shows. New sources like CNN and MSNBC also have their own apps to help viewers get the latest information on the world today. These services are all available for a low monthly fee at a fraction of the cost of cable or satellite.
Dine In Instead of Out ($250/month) - This adjustment can sometimes be easier said than done. While choosing to purchase groceries over takeout can be a simpler transition, gaining a repertoire of recipes takes some time. To ease into this change, we recommend starting with simple recipes that can be completed quickly on the stove, or throughout the day in the slow cooker. By researching these recipes ahead of time, and then shopping for those ingredients, you can continue to save money on unused food as well. For extra savings, save your dinner leftovers as an easy and re-heatable homemade lunch.
Start a Side Hustle ($300/month) - For everything from officiating weddings to teaching English, there are hundreds of different opportunities to help you make some extra money on the side. If you have five to ten hours a week to dedicate to this hobby turned cash flow, you can discover additional ways to expand your business into further business opportunities.
Exchange Bank of Northeast Missouri
Member FDIC
Equal Housing Lender