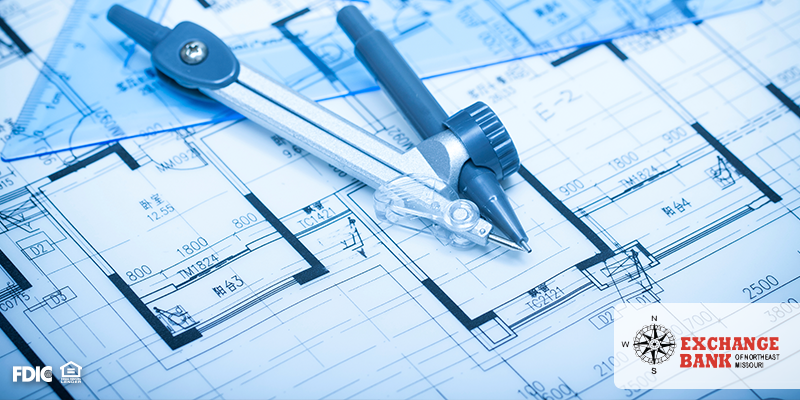 Choosing to construct your own home means you're in charge of everything from the location of the site, to the color on the walls, and everything in between. To help ease the stress of this exciting milestone, Exchange Bank of Northeast Missouri offers these coveted Dos and Don'ts while you work through your home's construction:
DO: Choose a budget with a cushion.
DON'T: Let your contractor adjust the building plan without your approval.
It's always a good idea to leave some wiggle room in a budget, but this is especially true with construction. Should something unexpected happen, you'll want the extra funds available to continue building, instead of putting the project on pause while you save. Additionally, when there are various updates along the way, be sure your contractor keeps you informed, so there is no confusion on costs while the work is being completed.
DO: Work with local contractors and lenders to build your home.
DON'T: Rely on nationwide vendors to know the building regulations of your area.
Sticking to builders and lenders within your community not only helps to build the local economy but also ensures you're getting the most knowledgeable professionals for your future home. Depending on the city and county, there may be additional regulations or processes that need to be taken into account for both contractors and mortgage officers. The locality of these businesses can add valuable insight and potential savings opportunities throughout the period of your home's construction.
DO: Make a floor plan that allows your family to grow.
DON'T: Forget about the future when selecting your home's design.
Before you decide to downsize or trade up, consider your family timeline for your new home. If you and your spouse are just starting to grow, you may need more bedrooms in the coming years. On the other hand, if you are enjoying the benefits of grandparenting, you may prefer a first-floor master bedroom, so that no matter your age, stairs won't become an issue.
DO: Keep your eyes peeled for great ideas.
DON'T: Leave all the decisions up to your builder.
Your ideal home should reflect you and your family. If the builders have ideas, be sure to listen to them, however, always voice your personal opinion on the matter as well. Some things like structure need to happen a certain way. Cabinets and flooring, however, are completely up to your taste. If you are still searching for some inspiration, peruse the pages of Pinterest and Houzz to see what latest home trends are in this year.
No matter if your house is in-progress or in-planning, Exchange Bank of Northeast Missouri is here to guide you through the various stages of building your own home. We offer flexible options for both mortgages and home equity lines of credit. If you're curious on how to start making your dream home a reality, stop in and see us today!
Exchange Bank of Northeast Missouri
Member FDIC
Equal Housing Lender
NMLS# 483241